EuPC,PRE,PUPC Conference 22.05.2014 Hilton hotel Warsaw
Polish Union of Plastics Converters together with European Plastics Converters(EuPC)  and Plastics Recyclers Europe(PRE) made a  conference, which took place on 22 nd of May in Hilton hotel  Warsaw.
In the programm the presentations of  :
Alexandre Dangis - Executive Director of EuPC, Stefan Eingartner  - Vice Prezident Vinyl Plus, Walter Claes- Expert PCE,Tadeusz Nowicki-President of PUPC  and other branch authorities.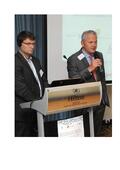 The conference gathered over  90 participants from Poland and abroad, from Germany,Holland,France, Slovakia and others.
The programm to download below.